."The comprehensive artist talks about (a forensic doctor) "
The star Bushra: I love the roles of evil and submitted my resignation from the El Gouna Festival and the success of five years is enough for me
"I didn't plan to act in this film, but director Ali Idris and writer Zainab Aziz presented me with a brilliant script that makes those who read it agree without hesitation. As I said at the beginning, work for me is an adventure".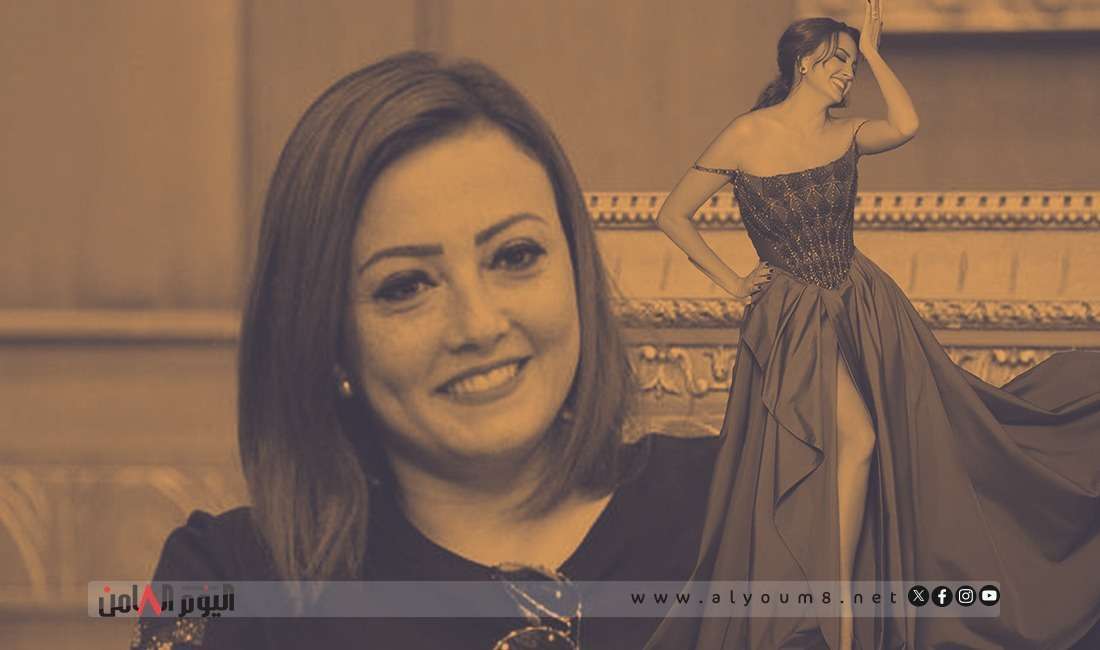 Cairo
She is a comprehensive artist who produces, acts, sings and achieved parallel success at all levels, she has a special look and a very special spirit, she began her artistic career as a singer and then quickly turned to acting and achieved great success through which she put her on the ranks of young stars and forgot to sing a little because of her involvement also in production, but from time to time a number of songs are released, the last of which was a song that exceeded the barrier of 60 million views on Tik Tok with an Uzbek singer, recently she produced two films and is still She dreams of presenting a theatrical artistic show, she is the star and comprehensive artist Bushra, with whom Alyoum8th newspaper had this dialogue.
First, tell us about your enthusiasm for the production experience of the second part of Harem Karim, and don't you consider this a risk?
The second part bears the name "Sons of Harem Karim" and the truth is I was excited to produce it because I have a constant passion for art, and the idea of reinvesting the success of the first part of the film in a second part after more than eighteen years I do not see it as a risk, on the contrary, I see it as courage and determination to present a work with a different vision, and I always like to think outside the box and I like boldness and out of the ordinary in all my artistic projects, and I do not like to play in content, and there must be a risk ratio With the project to present, this is already my character, I love the challenge and adventure.
Didn't you worry about criticizing some that you are acting in films of your own production?
Laugh, that's on the basis that all the work I've done was my own production? For your information, I did not plan to participate in acting in this film, but director Ali Idris and writer Zainab Aziz presented me with a genius script, which makes those who read it agree to it without hesitation. As I said at the beginning, the work is an adventure for me, and like the audience I loved the film and was eager to see what would happen to those characters after time passed.
- What is the reason for the apology of a number of female artists who participated in the first part of the film?
In fact, I do not know why, especially since the writer Zainab Aziz developed the script of the film without their characters after I learned the fate of all its heroes, and I was basically the last character to join the work team.
You also experienced production with the film "Why do you live it alone", but this time you will not participate in acting, so why?
It is not necessarily that every work produced by I participate in acting and the film mainly includes major stars Khaled El-Sawy and Sherif Mounir and Salma Abu Deif, and directed by Hossam El-Gohary, and God willing, will be presented soon and the truth is a different work from all sides, the meeting of two stars the size of Mounir and El-Sawy I consider it a summit meeting because the nature of events requires stars of this size, capabilities and acting ability.
What about the series "Forensic Doctor"?
It is a social series that revolves in a tragic suspense framework.
I finished filming my role in it, which is a completely new role for me, I have never presented like it before, so I was very excited to participate in it, and it is written by Muhammad Al-Ghaity and directed by Shadi Abu Shadi, and I co-star with the artists: Salah Abdullah, Nidal Al-Shafei, Firas Saeed and Marwa Abdel Moneim, and its events revolve around the world of forensic medicine and the scientific, technical and medical dimensions in interpreting the crime through the scenes of the life of a forensic doctor and her colleagues, after they found themselves involved in issues related to their work and affect their lives. Personality.
Before postponing the sixth edition of the El Gouna Festival due to the events in Gaza, I stated that your role will be just a guest of honor, so why?
In fact, my success in the past five years is enough for me, as I was a founding member of the festival and I made a great effort in them and must rest a warrior in order to give a chance to young people, and my role ended with submitting my resignation, and I will be a guest only watching new films that I could not follow due to lack of time, as I meet with workers in the field of cinema, and stay up with my fellow artists, my executive role in the "El Gouna Film Festival" actually ended with the end of the fifth session, and I think I did it to the fullest, and I was able With the festival team to put it at the forefront of film festivals in Egypt and the Arab world, and perhaps the countries of the world, and God willing, the cloud will disappear from our brothers in Gaza and things will return to normal.
You recently participated in the Amman Film Festival and you were a member of the jury, what about your participation?
I am very happy to participate in the Amman Film Festival, which is a big festival and very dear to my heart, and this visit came late, as I received more than one invitation in recent years, but the circumstances of the Corona pandemic prevented that, until the opportunity finally came and participation was achieved this year, and I was more happy because I was on the jury of the festival's films because I love the art of cinema and watching films; True talents consciously and fairly.
How did it feel to judge international festivals?
It's a great feeling because I always want to go through judging, because it makes me see the artwork from a different perspective, evaluating it based on specific points that I've put together before, not just for visual pleasure. Judging experiences awaken all my senses to follow the smallest details of the dramatic work from sound, image and décor... It also allows me to see and support young talent.
What about the singer Bushra, did you forget her?
Never, but production and acting sometimes takes me from singing, but I recently presented an album entitled "Hatta Talata" and put forward 5 diverse songs, including a duet with the Uzbek artist Azzam Shak entitled "Peace be upon you", and I was happy with the success achieved by my song with the Uzbek singer Azzamchik, and thank God I exceeded the barrier of 60 million views on the site "Tik Tok" hours after its launch, and this is a record for me, and of course I thank the poet Haitham Selim and the composer and music distributor Islam Sabri, I also thank everyone who participated with me in my new songs "Ranat Al-Khalkhal" and "Al-Lail", which are poems by Ahmed Haddad.
What does theater mean to Bushra?
I love standing on stage and I love the direct interaction between me and the audience in the showroom, but it needs energy, effort, dedication and attention to all details, and I hope to present a musical performance similar to what I presented before in the opera through the show "Braxa" and the show "Qadeen Leih" with the late artist Saeed Saleh. In fact, I would love to be my return to the theater through the work compensated by the absence of more than thirteen years, and unfortunately the show work has become rare, but it is the most arts closest to me and can bear my energy and my potential and my diverse artistic activity, I love comedy and show and also attracted by evil roles that bring out all my negative energy.